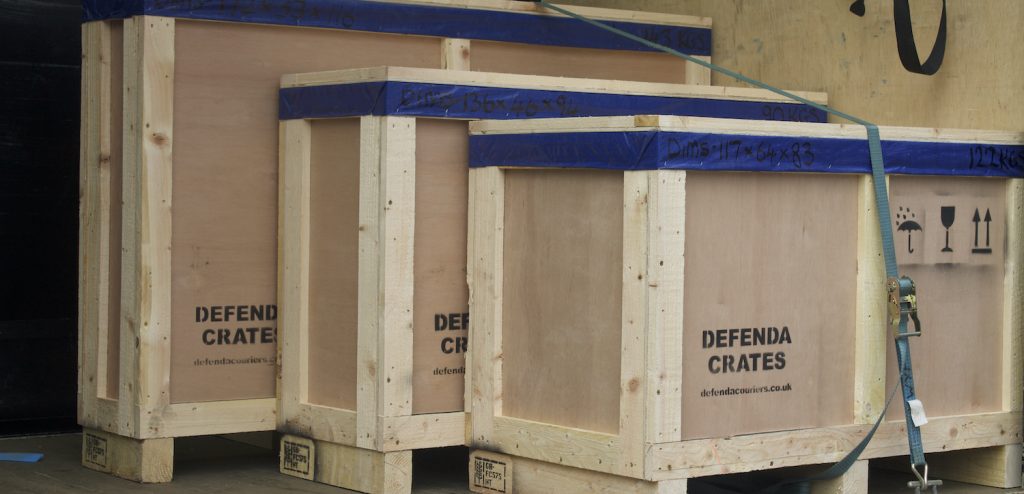 Do You Need Excellent Quality Custom Made Wooden Shipping Crates or Cases?
Here at Defenda Crates we produce and hold stock of quality ISPM 15 wooden crates or cases for collection or immediate dispatch. Alternatively we can quickly manufacture custom made timber crates & shipping cases for clients throughout the UK & Europe. We operate 24/7 almost every day of the year — so when you are working to extremely tight shipping deadlines we can produce custom made wooden crates very quickly & deliver them nationwide. Often, we can even make & deliver bespoke wooden crates or cases on the day of receiving an order – perfect when a client is really up against the clock with regards to very tight deadlines.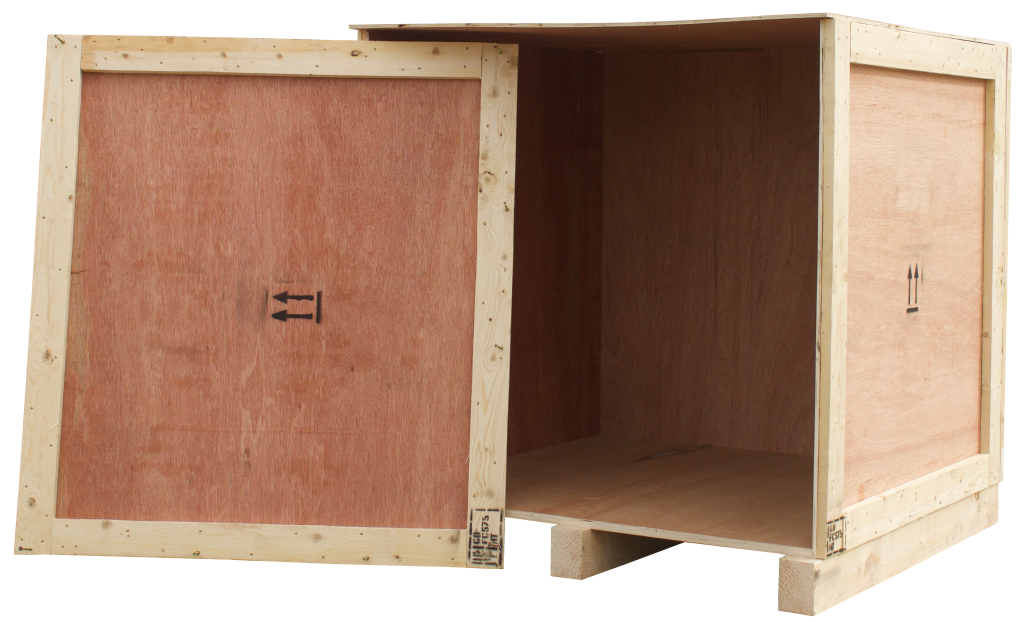 Defenda Crates is the wooden packaging division of Defenda Transport & Logistics Limited and we provide quality wooden packaging such as crates or cases to clients of all sizes across the U.K. and many European countries. Solid heat treated ISPM 15 wooden cases & crates or collapsible reusable cases can be supplied from stock or made to order. Our wooden crates & cases are used for exporting goods by many of the world's major corporations along with many small companies throughout the UK. We can also manufacture custom made ISPM 15 pallets suitable for export with any footprint or style required, including reinforced pallets or crates for heavy goods requiring extra heavy duty wooden packaging.

Fast production of wooden crates & cases can be essential to achieve pressing deadlines. As bespoke UK shipping case makers we offer fast production & delivery of ISPM 15 crates & cases – helping to ensure that any urgent shipping deadlines are met & our customers avoid the unnecessary costs of missed shipments.

Need strong timber packing cases for trouble-free worldwide exports? We produce heat treated solid timber crates & cases which are all constructed from sustainably sourced wood that is ISPM 15 certified & IPPC stamped, along with flat pack OSB (Oriented Strand Board) reusable cases. Custom made crates & cases can be manufactured in the required sizes and with fixtures & fittings to suit a client's particular shipment needs. Working with museums, art galleries, art dealers, all sorts of manufacturing & engineering companies, we can produce protective crates or cases for almost any goods you need to protect including classic cars, motorcycles, machines, sculpture, valuable oil paintings or simply the storage or transit of personal possessions etc.

As previously mentioned our workshops operate 24/7 and we are usually able to produce bespoke crates & cases on the day of order for emergencies but of course prefer a little more notice when possible. if you need help with any type of timber packaging why not call us & a member of our friendly team will be delighted to help.

Our heat treated crates & cases are routinely produced with pallet bottoms but of course as a custom made item they can be ordered without. If you want to buy our bespoke wooden shipping crates or cases but would prefer we omit a pallet base on your packing crate or case simply advise us when placing your order with us.
As custom shipping case manufacturers we service clients in all areas of the UK that need to buy strong heat treated ISPM 15 timber crates or cases for exporting goods, including towns & cities such as: London, Birmingham, Manchester, Liverpool, Bristol, Leicester, Nottingham, Derby, Newcastle upon Tyne, Sunderland, Middlesborough, Darlington, Preston, Blackburn, Oldham, Sheffield, Brighton, Southampton, Portsmouth, Cardiff, Newport, Swansea, Bridgend, Port Talbot, Glasgow, Aberdeen & Edinburgh.
Fast Production & Delivery Of Your Packing Cases
Need fast reliable shipping case makers? Why not contact a member of our shipping crate & casemakers' team for more information on our ISPM 15 wooden packing cases & shipping crates. Our ISPM 15 custom made or bespoke heat treated shipping crates or heat treated cases will not only ensure the ultimate protection of your shipments to UK or International destinations but also avoid your shipments being blocked from entry into jurisdictions with restrictions on wooden imports and packaging. The cheapest wooden shipping crates and shipping cases will often not be ISPM 15 certified – which will preclude them from use as protective packaging for many exports. It therefore makes sense to purchase wheat stamped IPPC compliant crates or cases if there is the possibility of them being used for international shipping to the USA, Australia, New Zealand, India and EU member states, including: Germany, Italy, Spain, Belgium, France etc etc.

Collapsible & Reusable Wooden Crates and Cases
Our collapsable OSB & plywood cases are the perfect shipping cases if space is in short supply as we supply them flat-packed and they are easily stored – only needing to be assembled when required for packing your goods.
They can be custom made in almost any size to hold almost anything you are shipping. Unlike solid timber crates or cases they do not require heat treatment or stamping with ISPM 15 certification details.
Our collapsible shipping crates make the perfect strong packaging for items that need returning: such as goods being sent to exhibitions internationally. The clip-lock design of the cases means they can be dismantled when your shipment arrives for easy storage & re-assembled after the exhibition ends so the goods can be packed for a safe return to the UK.
When you are looking for the cheapest wooden shipping cases or crates then collapsible packaging may be the best option as it doesn't need to be heat treated and can be reused numerous times – something which can help keep the overall cost of your wooden export packaging down significantly.
Collapsible custom made wooden packing cases have an important role to play in many of our customers' export requirements but they are not available with such short lead times as our solid build crates. So if you have a little time we can certainly quote for a reusable clip-lock collapsible case or crate for for exporting your goods but for really tight urgent deadlines a strong solid build timber crate or case may be the option you need to pursue. In any event a member of our team will be happy to discuss the choices available so simply contact us for details.